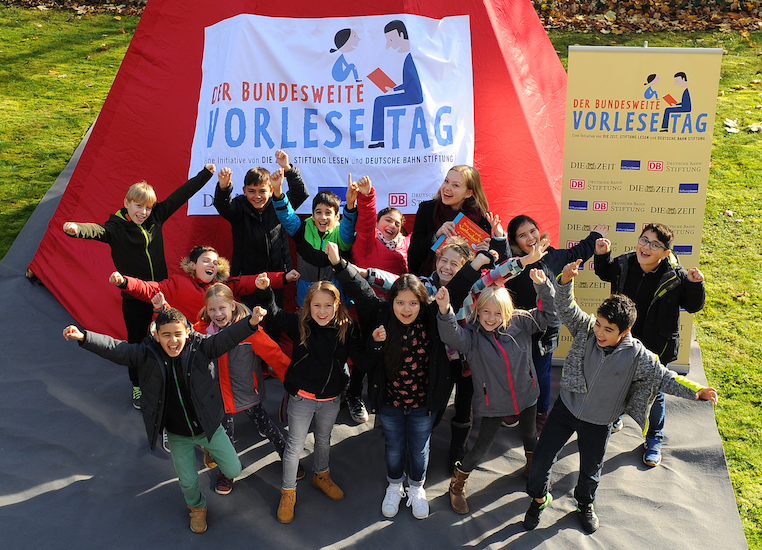 The German Reading Aloud Day is the largest reading festival in Germany – initiated by Weekly newspaper DIE ZEIT, Stiftung Lesen and Deutsche Bahn Stiftung.
In 2018, more than 660.000 People were reading aloud or listening to stories on November 16 – setting an impressive public example in favour of reading. Reading sessions were held in kindergartens, schools, homes for senior citizens, multigenerational houses, libraries and other cultural institutions, as well as at unusual locations like the Elbphilharmonie, in shopping malls, Starbucks stores and museums. Many celebrities and politicians set examples in strengthening reading culture.
Find out more at www.vorlesetag.de.
As part of the Gemany Reading Aloud Day the first STEM-Reading-Aloud-Flashmob took place in Bonn organized by EURead member Deutsche Telekom Stiftung. At several stations volunteer readers read aloud to kids simultaneously. The pupils learnt about "Lindbergh, the flying mouse" or the famous "Olchis". All together readers, listeners, visitors, adults and kids stretched particular STEM-topics at prepared research-stations afterwards. They tried to rebuild the world-record-paper-plane and experienced sound by the help of soup ladles, for example. Great fun and a lot to talk about at the same time!
Goal of our Campaign
To raise public awareness for literacy and reading in Germany. With more than 660.000 participants, the German Reading Aloud Day is a national beacon and reminder for the importance of reading – known to all citizens.
Most pressing issue
The PISA and similar studies show clearly how important reading promotion in Germany is in order to improve basis competences and educational skills.
What we need most
Without reading, there is no education, no job qualifications, no economic growth and no integration. Reading is key for the improvement of societies.
Support from the Government
Monika Grütters, Federal Government Commissioner for Culture and Media, and Dr Jörg F. Maas, CEO at Stiftung Lesen, signing the Europe Reads book and the petition to the European Parliament.