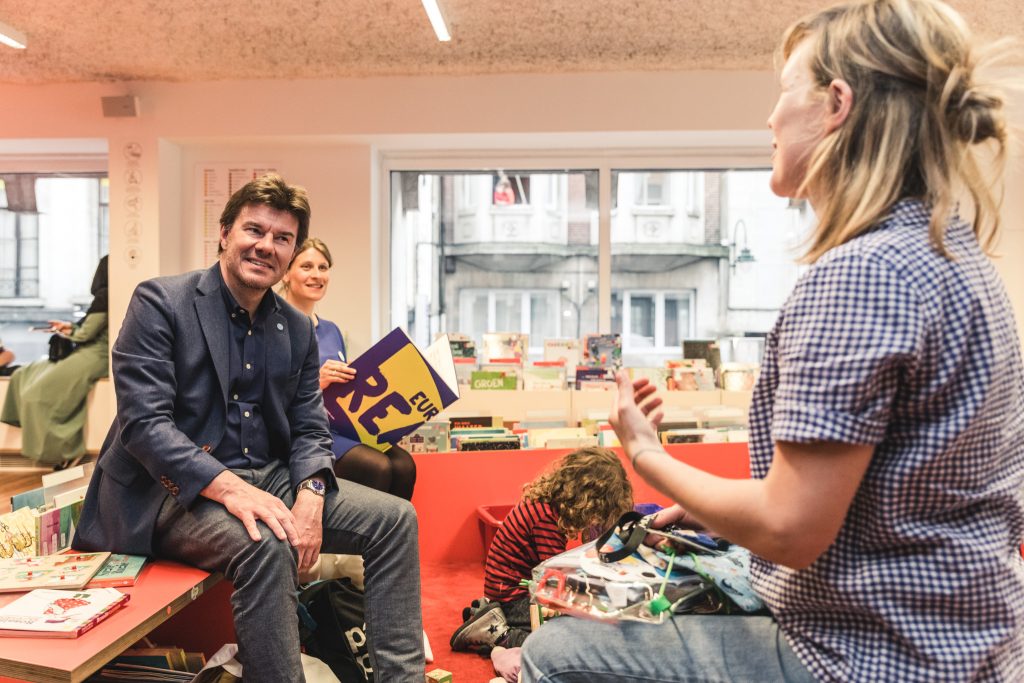 Today we organize the very first Bookstart day in Flanders and Brussels. On this day, more than 110 libraries open their doors especially for children between 0 and 2,5 years old. They organize reading aloud moments, sing-alongs and other special activities for babies and toddlers, so young parents know they are welcome at the library, no matter what age their children are. Our message is "You Cannot Start Reading Aloud to Your Child Too Early".
Goal of our campaign:
This first Bookstart day wants to highlight the Bookstart programme. The Bookstart programme focusses on early literacy. Bookstart wants young parents to enjoy books and reading aloud with their babies and toddlers. When young children get to know books at an early age, a whole new world of imagination and new words will open up for them. If they get an early start, they are more likely to enjoy reading and books when they grow older. On top of that, studies prove that an early 'book start' also helps them at school later on.
Local libraries are the ambassadors of the Bookstart programme. By providing baby books at the library and by welcoming young parents, they pass the Bookstart message that it's not at all strange to start reading aloud at a very early age.
Support of the Government
Sven Gatz, Vice-Minister-President of the Government of Flanders,
Flemish Minister for Culture, Media, Youth and Brussels Affairs, signed the Europe Reads book and the petition to the European Parliament. Furthermore, Bart Moeyaert, a Belgian writer, and Benjamin Leroy, a Belgian illustrator, made their contribution to the book.
© Michiel Devijver, Simon Bequoye
In our country, the most pressing issue concerning reading is:
Childrens' and youngsters' reading skills are decreasing every year. On top of that, dropping out of school early is happening more and more. Since social inequality keeps on growing, more children get left behind and don't get the same chances in our society. Children who don't have access to books and reading will experience a negative impact on their personal development and their social participation.
We need to raise more awareness of the importance of reading for pleasure as a way to improve literacy and reading skills.
What we need most to promote reading is:
It is important that our different governments keep on investing in a broad action plan on reading promotion, crossing different policy domains. It's important that local governments realize how important the local libraries are. We don't need more closures and budget cuts but more and better opening hours, more budget for proper collections and activities and decent training for the library staff.
On top of that, we need to pay more attention to reading skills in teacher trainings. We need more passionate teachers, because their importance as a role model to children is huge.
We need all organisations who work in the field of reading skills and literacy to join forces in order to reach as many people as possible. And most important, we need to reach the most vulnerable ones. Because good reading skills are vital to thrive in our society.
Iedereen Leest
Frankrijklei 130/4
2000 Antwerpen